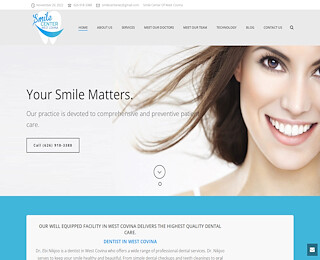 If you suspect that you would benefit from dental implants in West Covina, look no further than the Smile Center West Covina. We offer local, quality, and affordable dentistry for all of our Covina neighbors. If you're interested in dental implants, you probably are experiencing tooth loss and have determined that implants would be the best solution for you. The first step is for you to schedule an appointment with us for a comprehensive dental examination so we can determine the best course of action for you.
Understanding Dental Implants
If you're worried about losing a tooth or have already lost teeth, you should contact a dentist at the Smile Center West Covina. The sooner you get in for treatment, the better we can preserve your natural teeth and prevent your potential dental problems from worsening. The Smile Center utilizes only the latest state-of-the-art equipment along with the highest standards in the dental industry to determine what is the best treatment for each individual patient.
Dental implants may seem like a complex procedure but it's really simple. A dental implant is simply a titanium screw that substitutes the natural root of your missing teeth. The screw is drilled into the jaw bone (anesthesia is given) and becomes an anchor for the fabricated tooth that will be attached to it. Dental implants can be used to replace a single tooth, multiple teeth, or to secure and support dentures.

Dental Implants Last
Dental implants are more durable than other types of tooth replacements, and our dentists are highly experienced in this procedure. Whereas dentures and bridges usually have a lifespan of five to ten years, dental implants can be expected to last twenty years or longer with proper installation and routine dental care.
One of the reasons that dental implant recipients love their implants is that they are easily cared for. You can floss, brush, and rinse with dental implants as you do already. Dental implants are taken care of the same way as your natural teeth. Plus, dental implants behave the same way as your natural teeth do. You will never have to be cautious about them coming out unexpectedly, causing you any speech impediment, or moving around in the normal course of eating and speaking. They have a natural look and feel.
Dental Implants Preserve Bone and Look Better
Dental implants will preserve your bone structure from deterioration due to the loss of a tooth and will help maintain the health and strength of adjacent dental structures, whether they are natural or not. Further, dental implants are more aesthetically pleasing because they preserve the shape and density of your natural facial bone structure. Thus, they maintain a wholesome and healthy facial shape that could be lost in the absence of a strong, skeletal presence underneath.
Contact the Smile Center West Covina
If you are ready to do something about your missing teeth, call us to schedule an appointment today. The longer you wait, the worse and more expensive your problem will get. You can get dental implants in West Covina that will last a very long time at a very low price at the Smile Center West Covina.
Dental Implants West Covina