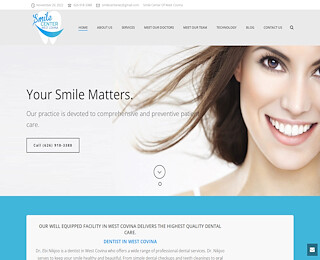 Your beautiful smile matters to our staff at Smile Center. When you need an emergency dentist in West Covina, our doors are open to you. Call to let us know you're on your way or simply walk in when you have an urgent dental care need and we'll rearrange our schedule to accommodate for your visit. We believe that by putting our patients first, we'll be first on your list of prospective practices when you need a dentist for your family.
We Are a Full-Service Emergency Dentist in West Covina
Smile Center is on the cutting edge of the newest advancements in dentistry. As such, we've invested in new CEREC Restorations equipment, modern, digital imaging, and continuing education for our staff. When you call us or stop by for an emergency visit, you can be certain we are able to provide high-quality dental care that alleviates pain and offers cost-effective solutions for your needs. We are able to offer immediate:
Extractions
Oral surgery
Dental veneers
Tooth reshaping
Dental implants
Crowns & bridges
Cosmetic Dentistry
And many additional services
What is a Dental Emergency?
While the definition of a true dental emergency differs from one practice to the next, we prefer to tell our patients that anything that hurts warrants a trip to our emergency dentist in West Covina. We don't want anyone to suffer with a toothache or painful dental injury one minute longer than is absolutely necessary. You should see a dentist immediately if you experience any of the following:
A toothache or abscess
Loose or broken dental restorations such as fillings, crowns, or other prosthetics
A sports injury involving your mouth
A bitten tongue
Painful gum issues
Bleeding inside of the mouth that won't stop with pressure
A cracked or broken tooth
Chipped teeth with jagged edges that may cut soft tissue
A knocked out tooth
Any situation you believe is an emergency
Err on the Side of Caution
If you're not sure what to do about a particular issue, simply give us a call and we'll be happy to help you make the determination as to whether you should come in to see the dentist. We'd prefer that you call us rather than wait it out or stay home when you genuinely need dental care. Our front desk staff can also offer professional advice on how to deal with pain while you wait to see the dentist.
Be prepared For an Emergency
Keep our practice's phone number in a convenient location and call us any time you need to speak with our caring staff. We recommend storing our hotline number in your cell under the name 'Emergency Dentist West Covina', for quick retrieval during an urgent situation. While many dentists in the community advertise their availability to see emergency patients during regular business hours, Smile Center can take your emergency call 24-hours a day, 7 days a week. Call us day or night when you need dental care at the hands of a team of experts.
Emergency Dentist West Covina