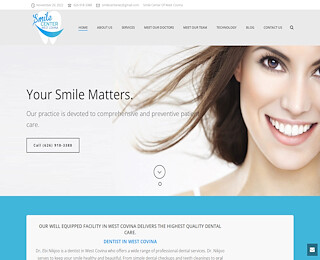 If you do a Google search for "Dentist near me West Covina," you will see that there are many options to choose from in West Covina and surrounding areas. Likely, you want a dentist who is well-established in the community, highly rated and performs great dental work at affordable prices. If this is you, then check out the Smile Center West Covina. We offer a wide range of dental services, both preventative and corrective.
The Dental Services Offered by the Smile Center West Covina
Bridges: Dental bridges span an area in the mouth where teeth are missing. Bridges work by joining a fabricated tooth permanently to adjacent teeth or dental implants.

Child Dentistry: It is important to get children into the habit of in-home dental care as well as routine dentist visits for cleaning and checkups. Creating good brushing and dental awareness at a young age is a practice that will carry over into adulthood. Our dentists have a gentle touch and work very well with small children and teenagers.
Cosmetic Dentistry: While many dental procedures work to fix the functionality of teeth or solve an oral health problem, cosmetic dentistry works to improve the appearance of crooked, chipped, broken, and missing teeth.
Crowns: Dental crowns are simply caps that go over your teeth to restore tooth shape, strength, and appearance.
Dental Implants: Dental implants are the longest lasting tooth replacements available today. Dental implants are comprised of a titanium screw that fuses with the jawbone. An artificial tooth goes on top of the titanium screw.
Dentures: Dentures are a common low-cost solution to missing teeth. Dentures are simply a removable frame that holds one or more artificial teeth.
Emergency Dentist: Dental emergencies are reserved for individuals who need instant dentist attention to mitigate the risk of serious and or permanent medical/dental problems as a result of an oral injury or disease.
Invisalign: A popular transparent and removable alternative to braces that helps to straighten the teeth.
Lumineers: These are ultra-thin veneers that are hand-crafted for each patient.
Oral Surgery: Certain oral conditions are so severe that they require surgery.
Orthodontics (Braces): Crooked teeth have been linked to other health problems, such as heart conditions. Orthodontics is the practice of straightening teeth, especially with braces. This field of dentistry is extremely common, especially with children and teenagers.
In addition to these dental services, the Smile Center West Covina offers other dental services, including periodontics, root canal (endodontics), routine cleanings and checkups, temporomandibular joint (TMJ), and veneers.
Contact Us to Schedule Your Appointment
In the meantime, while you search for "Dentist near me West Covina," consider our reviews on Yelp and other review sites online. We believe you will be pleasantly surprised at what our patients have to say about us. If you are looking for a new dentist in West Covina, the Smile Center West Covina is accepting new patients. All of our dentists, dental technicians, and receptionists are friendly and welcoming.
Dentist Near Me West Covina