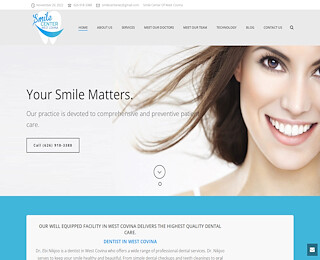 If you're looking for an exceptional dentist in West Covina, the Smile Center West Covina is now accepting new patients. We provide a variety of high-quality and affordable dental services to children and adults. You can view some of our ratings on Yelp to decide if we are right for you in the meantime. After seeing our reviews, you will discover that we are very popular in West Covina. But why?

We Educate Our Patients
At the Smile Center West Covina, we believe in patient education. This is why we place a large emphasis on teaching our patients about oral health and hygeine. As your dentist, there is a lot of things we can do for you. Of course, our favorite treatment is preventative. Patient education involves a hands-on approach to oral health and hygiene. Indeed, excellent dentistry begins at home.

Whether our patients are children or adults, we believe that the more they know about their teeth, the better they will be able to take care of them. Patients who develop dental health problems also benefit greatly from the advice and education provided freely by our highly experienced dentists. Ultimately, it's up to you to follow the advice of your dentist and give your teeth the care at home they deserve.
Our Dentists are Highly Knowledgeable
All of our dentists are highly experienced and knowledgeable. Every procedure we offer to our clients are procedures that we've performed many times before you. For this reason, you can feel safe and rest assured that you are in good hands when you or your children visit the Smile Center West Covina.
We Provide a Welcoming Atmosphere from Start to Finish
The dentist's office and the doctor's office seem to have at least one thing in common, and that is that they both tend to cause high levels of anxiety for their patients. Even the best and more experienced dentists have found this to be true. You might be inclined to think that young ones are more anxious in the dentist's chair than adults. While this is sometimes true, you may be surprised at how often it's the other way around.
Regardless of your age or situation, we understand that going to the dentist can be stressful, and that is why many people who need a dentist don't go until their problem has reached critical mass. When you visit the Smile Center West Covina, you can relax and feel comfortable. All of our staff, including our dentists, technicians, and receptionists are very friendly and understanding. Our dentists have a gentle touch and calm demeanor. We want you to feel right at home when you and your family are in our care.
All of Our Dentists Have a Deep Passion for Oral Care
Just like most doctors became doctors because they really want to help people live healthier, happier lives; we too have a great passion for dentistry, and that is why are the best dentist in West Covina. Most of us have families and children of our own, and we know that great overall health begins with the teeth. In fact, there may not be a better indicator of a person's overall health than the state of their teeth.
Dentist West Covina